Mara Mills is an Associate Professor of Media, Culture, and Communication at New York University who works at the intersection of disability studies and media studies. Her book On the Phone: Hearing Loss and Communication Engineering (forthcoming from Duke University Press) argues the significance of phonetics and deaf education to the emergence of "communication engineering" in early twentieth-century telephony. This concept and set of practices later gave rise to information theory, digital coding, and cybernetics—along with new electroacoustic tools and a revised understanding of human speech and hearing. Mills is currently working on the history of optical character recognition and, with Jonathan Sterne, she is co-authoring a book titled Tuning Time: Histories of Sound and Speed.
Mills received B.A. degrees in Biology and Literature from the University of California, Santa Cruz and an M.A. in Biology/Ph.D. in History of Science from Harvard University. She previously taught Biology and English at Santa Cruz High School.
Mills has held fellowships from the National Science Foundation, the Mellon Foundation, the American Council of Learned Societies, the DAAD, the Alexander von Humboldt Foundation, and the IEEE. In 2011, she was the Beaverbrook Visiting Scholar at Media@McGill. She is a founding editor of the journal Catalyst:  Feminism, Theory, Technoscience and a member of the executive council (2016-2018) of the Society for the History of Technology. With Faye Ginsburg, she co-founded and co-directs the NYU Center for Disability Studies.
Further details can be found at her NYU faculty page.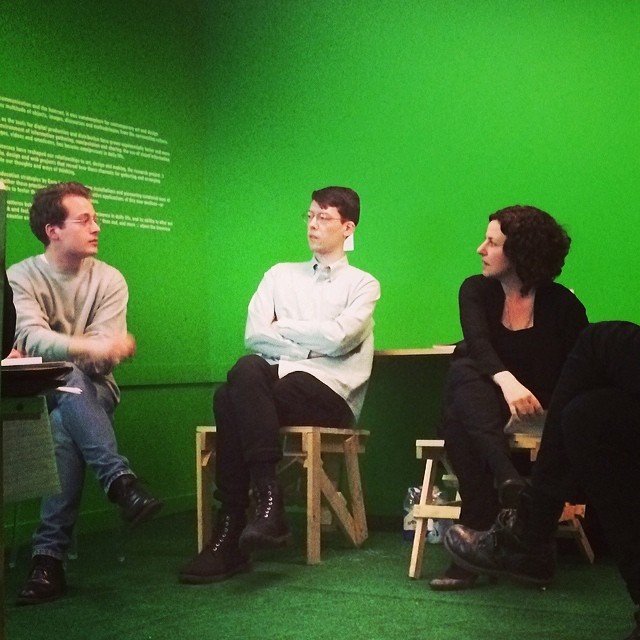 Mills (right) at the Museum of Arts and Design, New York, March 2014