Mara Mills is Associate Professor of Media, Culture, and Communication at New York University, with expertise in sound studies, disability studies, the history of electronics, and the history of the telephone. Her book Hearing Loss and the History of Information Theory is forthcoming from Duke University Press. Mills is currently working on the history of optical character recognition and, with Jonathan Sterne, she is co-authoring a book on the history of audio time stretching. In addition to co-editing several books and journal issues, she has published articles in Technology & Culture, IEEE Annals of the History of Computing, Grey Room, differences, Social Text, Film Quarterly, and PMLA, among many other academic journals. Her writing has been translated into German, French, Spanish, and Portuguese.
She has been interviewed and her research has been featured in popular venues including 99% Invisible, TechCrunch, Gizmodo, Trailblazers with Walter Isaacson podcast, The Atlantic, The Boston Globe, The Chronicle of Higher Education, Ploughshares blog, and Red Bull Music Academy Daily. Her public arts and humanities writing can be found at sites like Triple Canopy, Artforum, Public Books, Bomb, Somatosphere, and AVIDLY—a channel of the Los Angeles Review of Books.
Mills received B.A. degrees in Biology and Literature from the University of California, Santa Cruz and an M.A. in Biology/Ph.D. in History of Science from Harvard University. At NYU, she teaches courses on the history of technology and disability studies. For the past 15 years she has taught an award-winning undergraduate course, "Disability, Technology, and Media," combining disability theory with training in media accessibility; it has become a model for many similar classes around the world. She previously taught Biology and English at Santa Cruz High School.
Mills has held fellowships and grants from the National Science Foundation, the National Endowment for the Humanities, the Mellon Foundation, the American Council of Learned Societies, the DAAD, the Alexander von Humboldt Foundation, the Max Planck Institute for the History of Science, and the IEEE, among others. In 2011, she was the Beaverbrook Visiting Scholar at Media@McGill. She is a founding editor of the journal Catalyst:  Feminism, Theory, Technoscience and has been a member of the executive council (2016-2018) of the Society for the History of Technology. With Faye Ginsburg, she co-founded and co-directs the NYU Center for Disability Studies.
Further details can be found at her NYU faculty page.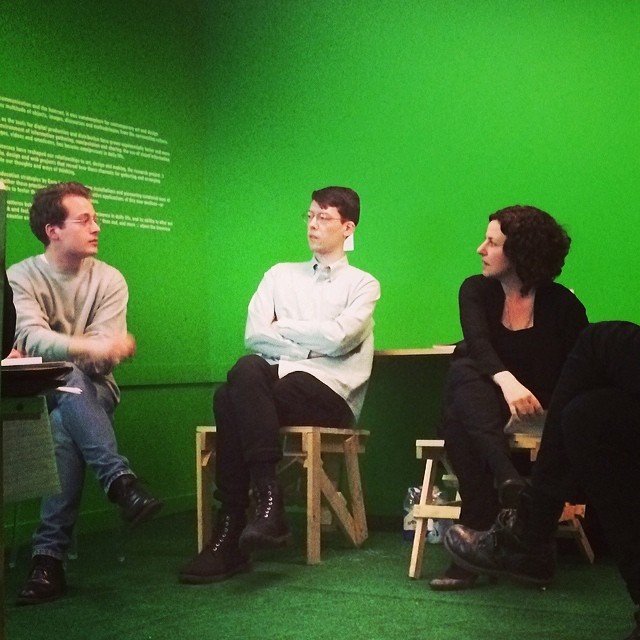 Mills (right) at the Museum of Arts and Design, New York, March 2014